Circles

What is a Circle?
Circles are simple. You and up to 4 of your same gender Christ following friends, who you currently spend time with, agree to meet monthly during your routine/rhythm of life. The goal is not more activity, but more focused purpose of your current lifestyle. The goal is grow in your OBEDIENCE to Jesus.
Circles are NOT another Bible Study. You're going to do six things every time you meet (preferably once per week, but as little as twice per month):
OBSERVE -
Talk about life (live: family, neighbors, friends, home life / work: staff, tasks, travel / play: interests, pop culture, news)
REFLECT -
Share about where God is at work and/or where you hope He might work.
DISCUSS
Each person shares what they have heard from God in the designated/shared chapters of scripture they read the past week(s) (look at "How To REAP" below for help in studying the bible). Then share about how you can obey what you have learned from the bible.
PLAN
Each person shares their plans on being disciplined the following week(s) in 1)battling sin 2) studying God's word 3)creating relational evangelism opportunities 4)other disciplines your circle is working on.
ACCOUNT
Over time (and each group will vary) each group will share an account of life and struggles and encourage, exhort, and rebuke (if necessary) one another in waging war against sin etc. in their Christian journey. We will provide questions, but do not expect groups to read aloud each question during meetings. That is not to say that a group is not welcome in doing so. The expectation is a natural communication of HONEST and REAL LIFE conversation that will lead to Godliness.
PRAY FOR NON-BELIEVERS
Talk about how your relationship with each and how spiritual conversations have gone with your non-believing friends. Share how you plan to weave this person into your community. Then pray for them by name for God to save them. Take time to list some people you are praying for and track the conversations and time spent over the course of time.
ACT
A circle does not end at the end of a meeting. The expectation is to continue to be a part of each other's lives with the main goal being gospel centered relationships (both inward and outward facing). You will help each other facilitate Gospel centered relationships and conversations and hold each other accountable to "Say Something" to those you list as "Near to you but far from God."
How do they form?
Draw a circle and write your name in the middle. The arrows and dashes represent your current rhythm of life.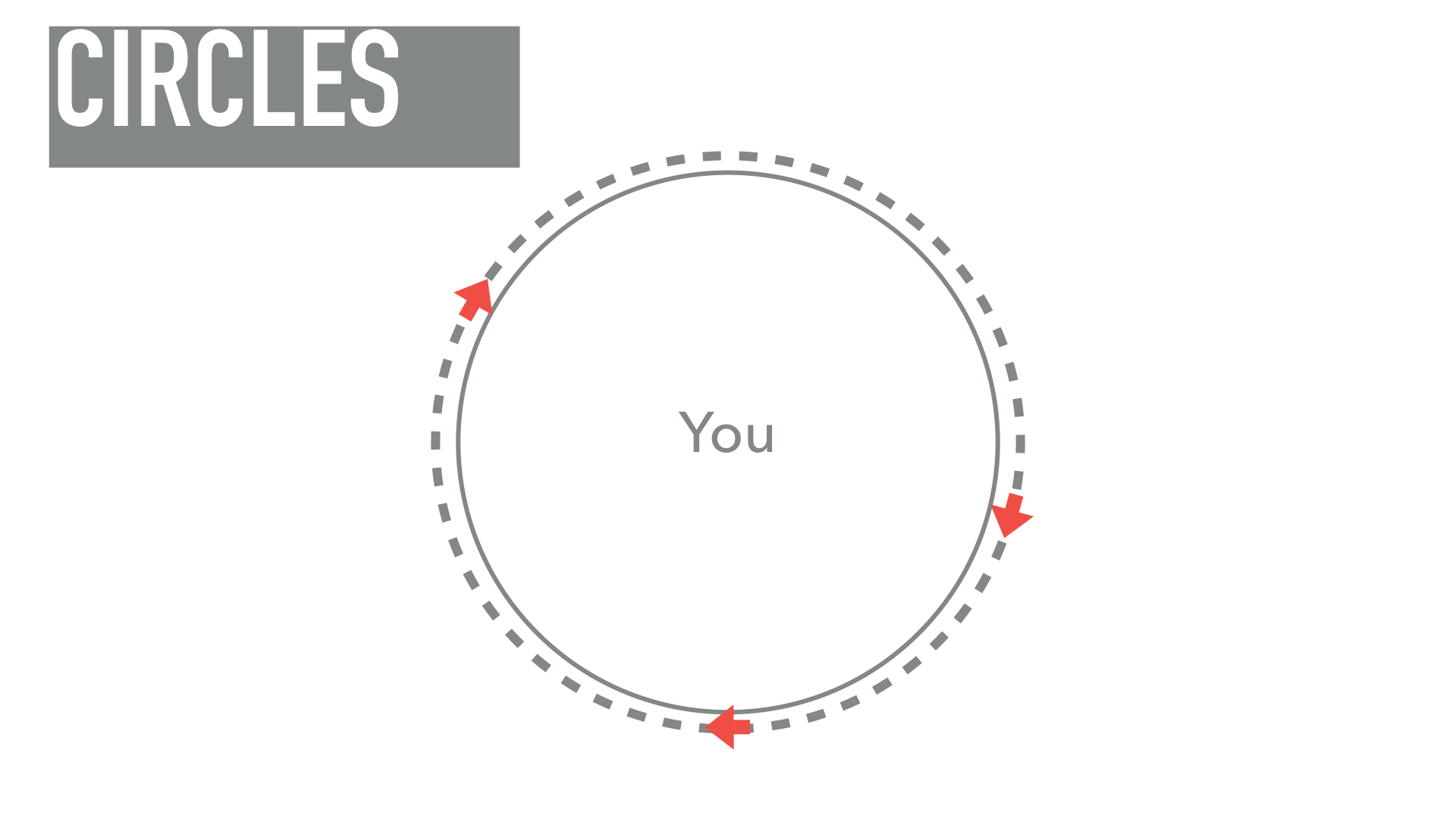 Draw two new circles and write your names of friends who are Christ followers and the same gender as you. These are people that you already share your life with. The goal is not to find new people, but to invite in those who you already feel close with.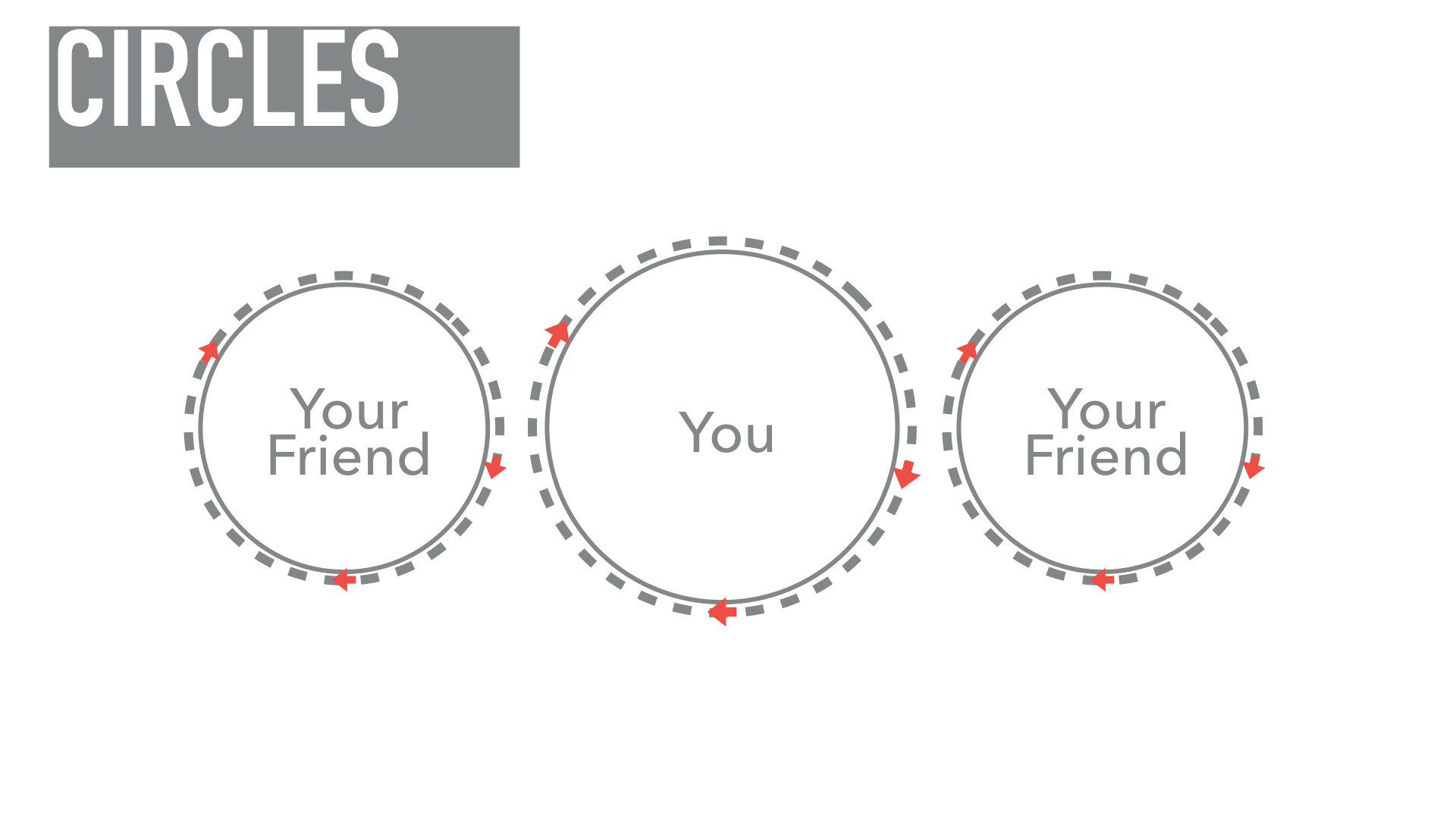 Add a circle and write in what you and each friend typically does to spend time together (fish, eat, watch movies, craft, etc.) This will be something that you invite those you are praying for to take part in with you and your circle.
Draw a final set of circles and fill them in with names of those that your friends say are near to them but far from God. These will be the first set(s) of that your circle will invest in hoping to see them make a decision to follow Christ.